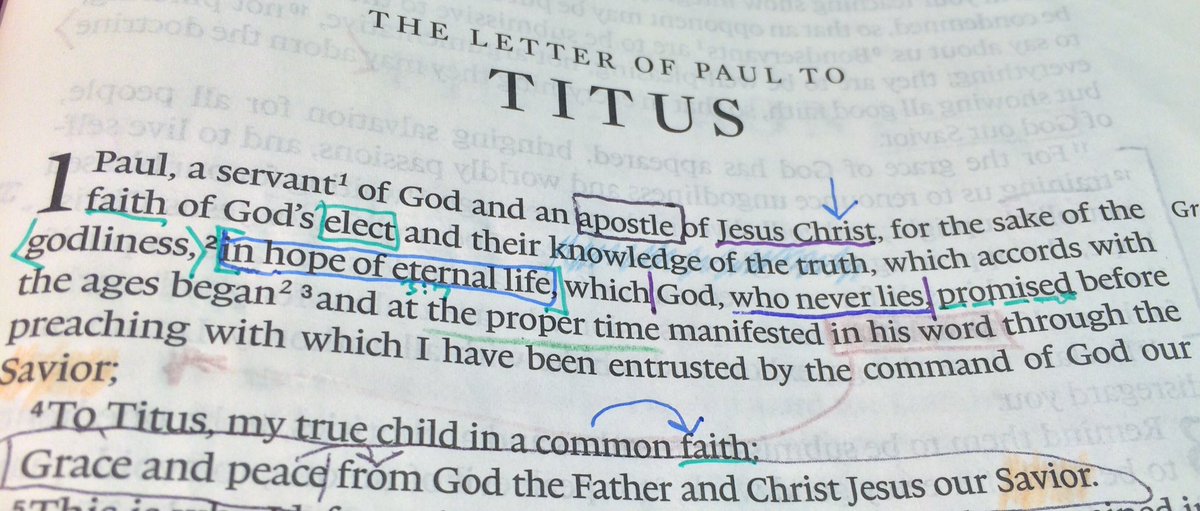 We recently began a series on the book of Titus here at Perryville Second Baptist (you can listen to recent sermons
here
).
Paul has a way with introductions doesn't he? He can be more gospel-centric in 4 verses than many preachers can be in 4 sermons. Technically, the word 'gospel' isn't even used in these first four verses of the book of Titus but as we'll see that fact doesn't keep Paul from dropping some glorious Truth about the finished work of Jesus. So, let's take a look at 8 gospel words/phrases from Titus 1:1-4 in hopes of giving us a more robust picture of the gospel. Think of these words/phrases sort of like puzzle pieces that we piece together to see a glimpse of the beautiful picture of all that God is for us in the person and work of Christ. Here we go...
1:1 Paul, a servant of God and an apostle of Jesus Christ, for the sake of the faith of God's elect and their knowledge of the truth, which accords with godliness, 2 in hope of eternal life, which God, who never lies, promised before the ages began 3 and at the proper time manifested in his word through the preaching with which I have been entrusted by the command of God our Savior; 4 To Titus, my true child in a common faith: Grace and peace from God the Father and Christ Jesus our Savior.
1. Trinity
–
Ok, I'm not sneaking one in here on you. The word 'Trinity' is not in the text. But notice something in verses 3 and 4. In verse 3 Paul writes "...God our Savior;" and in verse 4b he says "Grace and peace from God the Father and Christ Jesus our Savior."
If you've kept up with Christian blogs much the last month or so you've seen some debate taking place on the Trinity. This is because the Trinity is vital to the gospel and thus our salvation. Without the Trinity we don't have the gospel. It is by nature, Trinitarian. One God who eternally exists in three distinct persons, who are equal in essence.
Titus equates Jesus with God in these very opening verses of Titus. Two more times in the book he calls God our savior (2:10, 3:4). In Titus 2:13 Paul explicitly calls Jesus 'God'. So, even in this short book of Titus we get a glimpse of the importance of the Trinity! All
three
persons of the Trinity are mentioned. We've already covered the Father and the Son, but also in
Titus 3:5
Paul mentions the Holy Spirit. All three persons of the Trinity are working in glorious harmony to bring us salvation through the gospel of Christ. The Father chooses us, the Son dies for us (Titus 2:14), and the Holy Spirit regenerates our hearts.
2. Knowledge of the Truth –
This phrase is found in the opening verse. Truth is used in Paul's letters often as a synonym for the gospel. Ephesians 1:13 Paul writes "In Him you also, when you heard
the word of truth
, the gospel of your salvation, and believed in him, were sealed with the promised Holy Spirit..." (emphasis mine).
Yes, there is such a thing as absolute truth. The gospel is truth. People can discern 'true' things without the gospel, but there is always distortion attached to it. For example, a person does not have a true picture of God apart from the gospel. A person does not have a true picture of man, nor a true picture of themselves without the gospel.
The truth is, mankind's problem is not outer circumstances. It is sin. And because of sin we are in desperate need of a Savior. That Savior is God Himself in the person and work of Christ. His substitutionary work on the cross is our only of reconciliation with the God we have so offended by our rebellion.
Let me also add here that truth is doctrine! Sound doctrine is vital to the church and a big part of this letter (
Titus 2:1
). And sound doctrine leads to sound living, but more on that later…
3. Grace and Peace –
We find this phrase in Titus 1:4 (as well as in Romans 1:7, 1 Cor. 1:3, 2 Cor. 1:2, Gal. 1:3, Eph. 1:2, Phil. 1:2, Col. 1:2, 1 Thess. 1:1, 2 Thess. 1:2, 1 Tim. 1:2, 2 Tim. 1:2, and Philemon 1:3).
Paul was pretty fond of grace and peace it seems. Of course this was similar to a common Greek introduction, but Paul 'Christianizes' it. It is through the gospel that we have received both grace
from
God and peace
with
God through the person and work of Christ.
Grace because we are unworthy, hostile in mind, opposed to God and yet He redeemed us anyway by placing the wrath that we deserve from Him because of our sin on His own Son on the cross. We have peace because our sin is atoned for. Jesus' propitiatory sacrifice has reconciled us to God.

And there is nothing we can do to add to God's love for us. We can't work our way into His favor. Our salvation is wholly dependent upon grace from beginning to end. And notice there in Titus 1:4 that grace and peace is from God. He is the source!

4. Elect –
Again, Paul gets into this right away in verse 1. The term 'elect' in the Bible is a synonym for Christian,and literally means 'chosen'.

What a thought! By God's grace alone, Believers are chosen in Christ even before time began. What a glorious gospel! We are not chosen based on a foreseen choice or work of righteousness on our part. Believers are chosen in Christ by the sheer grace and love of God!

The gospel is not plan B. It was God's plan A all along. Look at what Paul say sin verse 2: "in hope of eternal life, which God, who never lies, promised before the ages began" (emphasis mine). The gospel existed in the heart of the Triune Godhead even before there was time or space!

Let me emphasize here that salvation from beginning to end is of the Lord. We are not our own saviors. God is our Savior from beginning to end. As a review, three times in this letter God is called our savior: 1:3, 2:10, 3:4(5).

5. Hope of eternal life –
This phrase is used in Titus 1:2 and in Titus 3:7. This gospel message brings us into a right relationship with God whereby we will glorify Him and enjoy Him forever. In verse 2 Paul also tells us that God never lies! Eternal life is the real deal and it is promised from a God who cannot lie. It is found in justification by His grace (3:7) and it is the good promise for all those who repent of their sins and close with Christ in faith.

Are you trusting God's good promises today?
What a word hope is. As we think of the devastating effects of sin in our society, in our homes, even in our churches, the gospel alone is the message of hope we truly need.

6. Faith –
We see this word in v.1 and v.4. How is this gospel, this good news of Jesus death on the cross for our sins, how is it actually applied to an individual's life? Sola Fide. Faith alone.

By faith we are credited with Jesus' righteousness. It is by faith alone that we stand before God justified. Not by the works of the law.

In verse 4 Paul refers to this as a 'common faith.' Let me just emphasize here that the way one is made right with God today is the same that it has always been: by faith alone. The never lying God has promised eternal life for all who will trust His Son's finished work by faith, repenting of their sin and turning to Jesus as their only suitable and all sufficient savior.

7. Preaching –
I won't spend long here, but in verse 3 Paul mentions the word 'preaching.' The idea of preaching here means the public proclamation of the gospel to unbelievers. No one comes to faith in the Gospel apart from the proclamation of the gospel…We must hear the gospel, repent of our sin, and place our faith in the finished work of Jesus.
I bring this out because the gospel is good news and this good news is meant to be proclaimed. And, this proclamation of the gospel to the nations is the whole church's mission…

8. Godliness –
Finally, we have arrived at our last word. But, it is certainly not the least word we've covered thus far. Let me again quote Paul: "for the sake of the faith of God's elect and their knowledge of the truth,
which accords with godliness"
(emphasis mine).
Not all true statements produce godliness. The Dallas Cowboys have won 5 Superbowls. That's a true statement. But it doesn't produce godliness. But the gospel is more than merely a 'true statement.' As we've already covered, it
is
truth. And saving knowledge of this truth produces godliness in the lives of its adherents by the power of the Holy Spirit.
Yes, by grace, God actually produces godliness in Believers!: (See
Titus 2:14
as well).
Gospel people are godly people. Through the gospel, God produces godliness in us. Take account of your life.
· Do you think you are loved more by God by what you do? That will not produce godliness in you.
· Do you think you are a true Believer and now have a license to sin? That will not produce godliness sin you.
However, the deeper we go in the gospel – that all work is finished in Christ! And that we are called to rest in HIS merits alone for our acceptance b4 God – the deeper we go into that message – the more we will see godliness as natural outflow.
A gospel that does not produce godliness, is not the saving gospel of Jesus Christ! The more we see, hear, know, and understand the grace of God in the gospel, the more we are shaped into a people zealous for good works. Yes, this means Believers need the gospel. We are all prone to rest in the Law for our right standing with God. "I went to church 48x this year!" "I give lots of money to missions!" "I read my bible every day!" None of those things are bad things. But none of those things increase God's love for us, nor do they earn us points with Him to cash in on worldly rewards.
It is the grace of God in the gospel that is our chief (not only, but chief) motivation for godliness. Of course, the other side would be those who want to live in sin because 'grace abounds'. Paul addresses that in other places, but I will just add that a life that is comfortable in sin is a life that is not savingly comprehending the grace of God in the gospel.
A lot to chew on in a mere four verses! But I hope you have been encouraged with the multifaceted nature of the saving gospel of Jesus Christ. I will leave you with this thought: God, the offended party, has taken the initiative in bringing reconciliation through His own Son. Do not question His willingness to save you to the uttermost! Run to Jesus today.